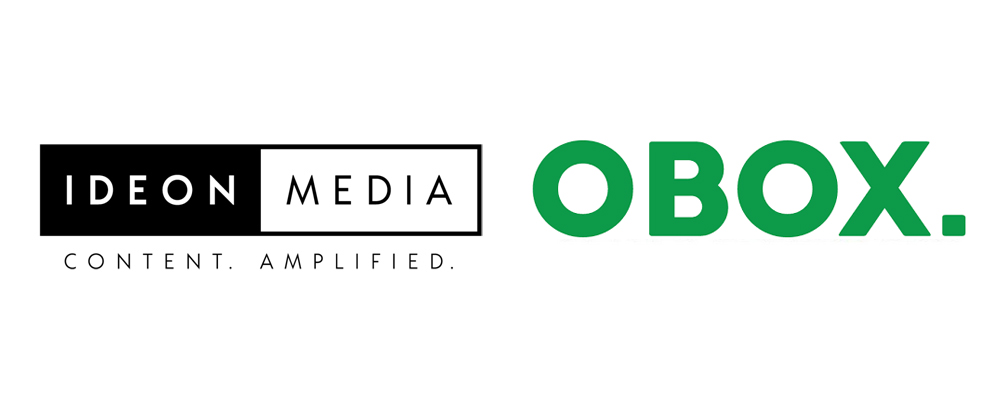 TORONTO & MONTREAL, August 8, 2022 – Ideon Media, Canada's largest digital rep firm, and Montreal-based OBOX Media, announced a partnership which will see Ideon representing all of OBOX's French sites in English Canada.
OBOX owns and operates eight French-language publishing brands, and represents an additional 50 publishers in key verticals such as food, parenting, lifestyle and sports; and reaches around 7M Canadians each month.
OBOX has worked with Ideon Media since 2021 on their sports vertical – this expanded partnership will allow Ideon to represent all of OBOX's properties to advertisers outside of Quebec.
This agreement significantly expands our longstanding partnership with Obox, which now includes all of the combined properties of OBOX and Ideon. We're thrilled to be expanding our French-language offering across multiple verticals," said Kevin Bartus, Ideon Media President and CEO.
"We are very excited about this extended partnership, as we feel Ideon Media's expertise and knowledge in the English Canada market will help us grow, as well as allow us to work with important clients, and create performant and innovative content and media campaigns," said Catherine Gougeon, VP of Sales, OBOX Media.
About OBOX
OBOX. Group is a holding company that is passionate about content, data & audience building, and technology.  Its subsidiary OBOX.Media is a leading Quebec multi-platform sales and representation organization specializing in high-quality Quebec media representation.
It operates and develops its own programmatic technology stack, reporting, and publisher-centric tools platform and deploys a high performing sales team around media, content, influencer programs, offering creative and high performance media campaigns for national and local clients across Quebec.
About Ideon Media
Ideon Media is Canada's largest digital rep firm, with several major global publisher companies under its umbrella, including BDG Media, VICE Media, Minute Media, Vox Media, IGN, Valnet, Multilocal Media, and OBOX. Ideon also owns and operates several sites, including SavvyMom, 29Secrets, and AmongMen. This massive scale reaches passion-driven audiences – over 18 million unduplicated Canadian consumers – across sports, entertainment, pop culture, parenting, fashion & beauty, wellness, news, tech, gaming and more.
For more information or interview requests: Kevin Bartus at kevin.bartus@ideonmedia.com.

MONTRÉAL & TORONTO, le 3 août 2022 – Ideon Media, la plus grande firme de représentation numérique au Canada, et OBOX Media, basé à Montréal, a annoncé un partenariat qui verra Ideon représenter l'ensemble des sites français d'OBOX au Canada anglais.
OBOX possède et exploite huit marques d'édition francophones et représente une 50aine d'éditeurs supplémentaires dans des secteurs verticaux clés tels que l'alimentation, la famille, lifestyle et sports ; et rejoint environ 7 millions de Canadiens chaque mois.
OBOX travaille avec Ideon Media depuis 2021, exclusivement pour le vertical sports, et le nouveau partenariat élargi permettra à Ideon de représenter toutes les propriétés d'OBOX auprès des annonceurs à l'extérieur du Québec.
« Cet accord élargit considérablement notre partenariat de longue date avec Obox, qui comprend toutes les propriétés combinées d'OBOX et d'Ideon. Nous sommes ravis d'étendre notre offre en français sur plusieurs marchés verticaux », a déclaré Kevin Bartus, président d'Ideon Media et PDG.
« Nous sommes ravis de ce partenariat étendu, car nous estimons que l'expertise d'Ideon Media et leur connaissance du marché anglais au Canada nous aidera à grandir et nous permettra de travailler avec des clients importants et de créer des campagnes de contenu et médias performantes et innovantes », a déclaré Catherine Gougeon, vice-présidente des ventes, OBOX Media.
À propos d'OBOX
OBOX. Group est une société holding passionnée par les contenus, les données, la construction d'audience, et la technologie. Sa filiale OBOX.Media est un chef de file québécois multiplateforme de vente et organisme de représentation spécialisé dans la représentation médiatique québécoise de qualité.
Il exploite et développe sa propre pile de technologies programmatiques, ses rapports et son éditeur-plateforme d'outils centrés et déploie une équipe commerciale performante autour des médias, du contenu, programmes d'influence, offrant des campagnes médiatiques créatives et performantes pour les clients locaux à travers le Québec.
À propos d'Ideon Media
Ideon Media est la plus grande entreprise de représentation numérique au Canada, avec plusieurs grandes sociétés d'édition mondiales sous son égide, y compris BDG Media, VICE Media, Minute Media, Vox Media, IGN, Valnet, Multilocal Media et OBOX. Ideon possède et exploite également plusieurs sites, dont SavvyMom, 29Secrets et AmongMen. Cette échelle massive atteint des publics passionnés – plus de 18 millions de consommateurs canadiens non dupliqués – dans les sports, le divertissement, la culture pop, parentalité, mode, beauté, bien-être, actualités, technologie, jeux et plus encore.
Pour plus d'informations ou demandes d'interview : Catherine Gougeon – cgougeon@obox.group.