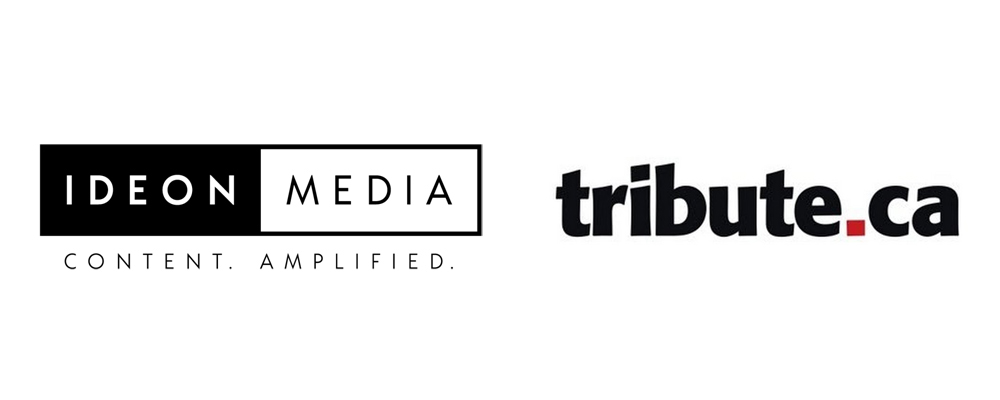 Toronto, Canada, November 17, 2021 – Ideon Media announced today it will serve as the exclusive ad sales partner for Tribute Entertainment Media, a network consisting over 15 entertainment sites, including Tribute.ca, Frontrowcentre.com and Canadamovies.ca, Enprimeur.ca (650,000 visits, Google Analytics).
Founded in 1980, Tribute Entertainment Media Group is the leading Canadian media company specializing in coverage of all aspects of the movie and entertainment industries throughout Canada. Tribute's long-standing relationships with studios and distribution companies provides the Tribute group with unique access to the stars, filmmakers, and behind-the-scenes creative in the entertainment world.
"Tribute has been an iconic Canadian media brand for decades and continues to drive engagement in new theatrical and streaming releases. Our exclusive partnership will enable Ideon to increase our depth in the amazingly resilient entertainment industry just as moviegoers are increasing attendance, spend and enjoyment of all the wonderful screen entertainment available in Canada," said Kevin Bartus, Ideon Media President and CEO.
"While the entire film industry is recovering from the impact of Covid 19, the Tribute network is seeing a return of our audiences as moviegoers flock back to blockbusters in theatres, seeking entertainment on the big screen. The addition of Ideon Media will expand our reach to advertisers seeking the unique moviegoing audience—urban, early adopters, sophisticated, higher income—a target that marketers want, including those that find entertainment content on all screens, big or small, in and out of home," said Brian Stewart, Tribute Entertainment Media Group CEO.
About Tribute
Tribute Entertainment Media Group (TEMG) is a leading movie entertainment media company specializing in creating online content and providing innovative marketing and advertising services throughout the world. Established in 1980, Tribute has been the main promotional arm for the movie industry in Canada for over 40 years. From blockbusters to home entertainment options, including streaming services such as Netflix, Amazon Prime Video and Disney+, as well as TV listings, our entertainment coverage provides fans with unparalleled access to movies, trailers, contests, news, movie showtimes and more. Tribute's online presence is led by Tribute.ca in Canada and Showtimes.com in the US, and includes a network of leading entertainment and movie websites: frontrowcentre.com, film-can.ca, tributemovies.com, enprimeur.ca, winnipegmovies.com, edmovieguide.com and more.
About Ideon Media (www.ideonmedia.com)
Ideon Media is a Toronto-based digital firm that offers a wide spectrum of advertiser solutions with best-in-class publisher representation and wholly owned and operated sites, including SavvyMom.ca and 29Secrets.com. Ideon specializes in custom content programs created by our award-winning in-house editorial team, influencer programs, events, performance network, proprietary data, and analytics. Ideon Media reaches a combined total of 16.4 million Canadians (Comscore, September 2021).
For more information or interview requests: Kevin Bartus at kevin.bartus@ideonmedia.com